In most cases if you send us a picture of the spot where the piece is missing and a batch number (the number stamped near where it says Made in USA on the outside of the box) we can get a replacement piece right out to you.  We'll even send you a video clip to show how we do it.
---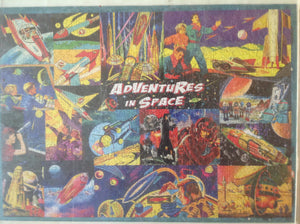 We have been doing the vintage space puzzle this week. It's one of the brightest, most creative images we have. It's really challenging with a big payoff. When forced to pay a lot of attention to the collage of images you notice really fun details...lots of variety. As you get nearer the finish its amazing how obvious it is where pieces go.
---
No need to dress up a map of the United States. The state borders, highways, and rivers....use brighter colors than most serious cartographers do, forget the red and blue and you have a beautiful familiar image ready to be cut into a thousand pieces. Why should your children settle for a 50 piece wooden jigsaw?
---
It's August. The slippery slope to the holidays has started! Why not order up your Mid Century Modern Christmas jigsaw puzzles now? You can finalize the list of who's been naughty or nice later. Send them Linda Tillman's Mid Century puzzle now. When they tell you how delighted they are, follow it up with Mid Century Christmas closer to December.
---
I I've always felt a little uncomfortable with Comic Books in perfect condition. Seems to me they should be out of those plastic covers and dinged up a little. I assume a few of our Comic Book Covers will remain in the shrink wrap, but I hope most of them will spend part of their life scattered on a kitchen table. Perhaps customers can be convinced to buy two? That way they can enjoy this Lois Sutton collage without missing out on the fortune....