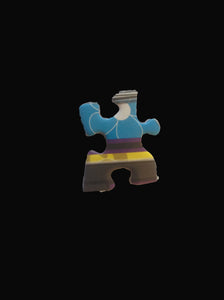 The batch # is stamped on one of the long sides of the outside of the box.  Nobody is perfect I guess, but every time I see a thousand jigsaw puzzle pieces poured out of a plastic bag I am amazed at how rarely a customer tells us he/she is missing a piece. Imagine having to make sure every single piece goes into every single bag before the puzzle leaves the plant. When the bag is opened and dumped on the coffee table  every single piece has to be rescued from the cat, the floor, and the cuff of uncle Jack's...
---
There are years in most teenagers' lives when verbal communication almost entirely shuts down. You can text your children but if you are in a period when "fine", "o.k.", "do I have to", and "Mr. Collins is an idiot" us all the verbal communication you share, try breaking out a jigsaw puzzle. Do not suggest that your teenager help you. Don't try to make eye contact. You will be surprised how often these creatures whose main goal in life is to cause chaos will follow their natural human instict to find a few pieces. They may ever sit down for...
---
We considered using "unplugged" in the logo, but that's an adjective. We obviously aren't "unplugged". We decided on "unplug". That's a verb, as in "unplug, do a jigsaw puzzle." The only power you need is for a lamp and maybe some appropriate music...Sinatra with the Mid Century?  Naw. Unplugged conversation or just plain quiet will do.
---
Irene, a friend of ours, told us that one of the constants in her young life was the puzzle table in the corner of her grandmother's living room with a lamp, a plant, and a partially assembled jigsaw puzzle. Over the years the puzzles would change, assembled a few piece at a time by whoever was around, but the table, the plant, and the lamp, were always in the same place.We like to think of Hennessy Puzzles joining the generations of puzzlers at Irene's grandmother's house. Of course, we also like to think of big shots building puzzle rooms to...
---
Jigsaw Puzzle SeasonThe first jigsaw puzzles our kids ever did were with a whole gang of their cousins at Popsie's cabin on rainy summer days, when spending the afternoon at the lake wasn't as appealing as it usually was. We have friends who do most of their puzzling in the winter, when the days are short and the weather is, well, the way the weather has been lately. (A friend in Michigan sent a photo of the ice on the handle INSIDE her front door.) And some of us have a puzzle going at all times, just because that's the...